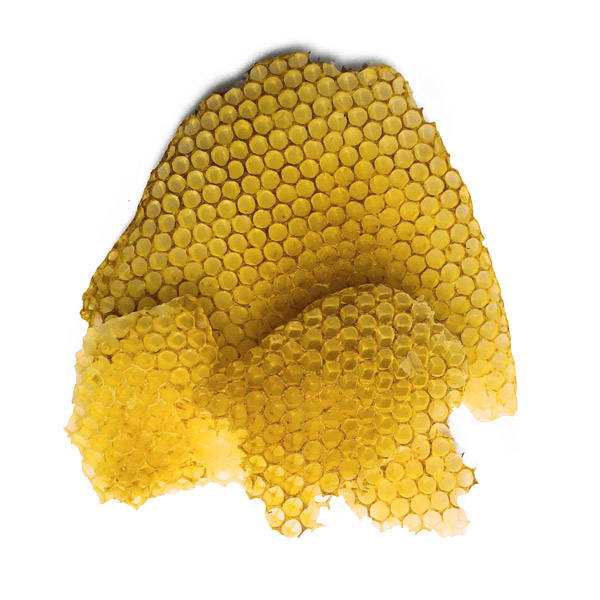 Cleansing and moisturizing
Beeswax is a natural wax that is produced by honeybees. It is obtained by melting the emptied honeycomb with hot water. Natural beeswax has a light to dark yellow color and smells slightly of honey. This wax is also called Cera Flava and has only been cleaned of impurities and bacteria. The melting point is between 61 and 66 degrees Celsius. We only use this yellow, natural beeswax in our cosmetics. There is also white beeswax, which is called Cera Alba. However, this is often of poor quality and bleached with chemicals. He also lacks the typical honey scent.
What does beeswax do on the skin?
It's all about moisture! Beeswax has several advantages when applied to the skin. It serves as a barrier that helps protect the skin from harmful environmental influences, while at the same time storing moisture and preventing dryness.
Unlike mineral oil ingredients (which we unfortunately often find in lip care, for example), beeswax allows the skin to breathe and does not clog the pores. It forms a unique protective barrier and lies like a protective plaster on the skin and keeps foreign objects away.
Despite its actually water-repellent property, beeswax has the special feature that it attracts water molecules. This will help your skin retain moisture for a long time and gradually release it to your skin.
Beeswax also contains a lot of vitamin A. Vitamin A supports your skin in cell regeneration, i.e. staying firm and elastic and preventing wrinkles.
And last but not least we do not want to forget about the unique beautiful scent of beeswax!
BEE WAX (CERA FLAVA) IS INCLUDED IN THESE PRODUCTS: